Lezingen en EXcursies
Current members of this committee
| | |
| --- | --- |
| Alexander Keizer | Chairman |
| Berjan Westerdijk | Knowledgebase |
| Robin Lohuis | Knowledgebase |
| Rienk van der Wijk | Secretary |
| Arne Smit | General member |
| Herjan Barkman VP | General member |
| Jort van de Bovenkamp | General member |
| Melissa Tijink VP | General member |
| Sheona Sequeira | General member |
| Sonu Ranjit Jacob | General member |
| Bart Schuurman | CCP |
Future activities organised by this committee
Lunchlecture Shell
Thursday 28 October 2021 12:45, Carré 2K [LEX]
Joep Kiewiet from Shell will give a talk about new challenges they face in Moerdijk. In specific, how the energy transition that Shell is undertaking is happening at Moerdijk and how electrical engineers can play a role in this transition. Finally, Joep will talk about what it is like to work at Moerdijk and what type of work he does on a daily basis.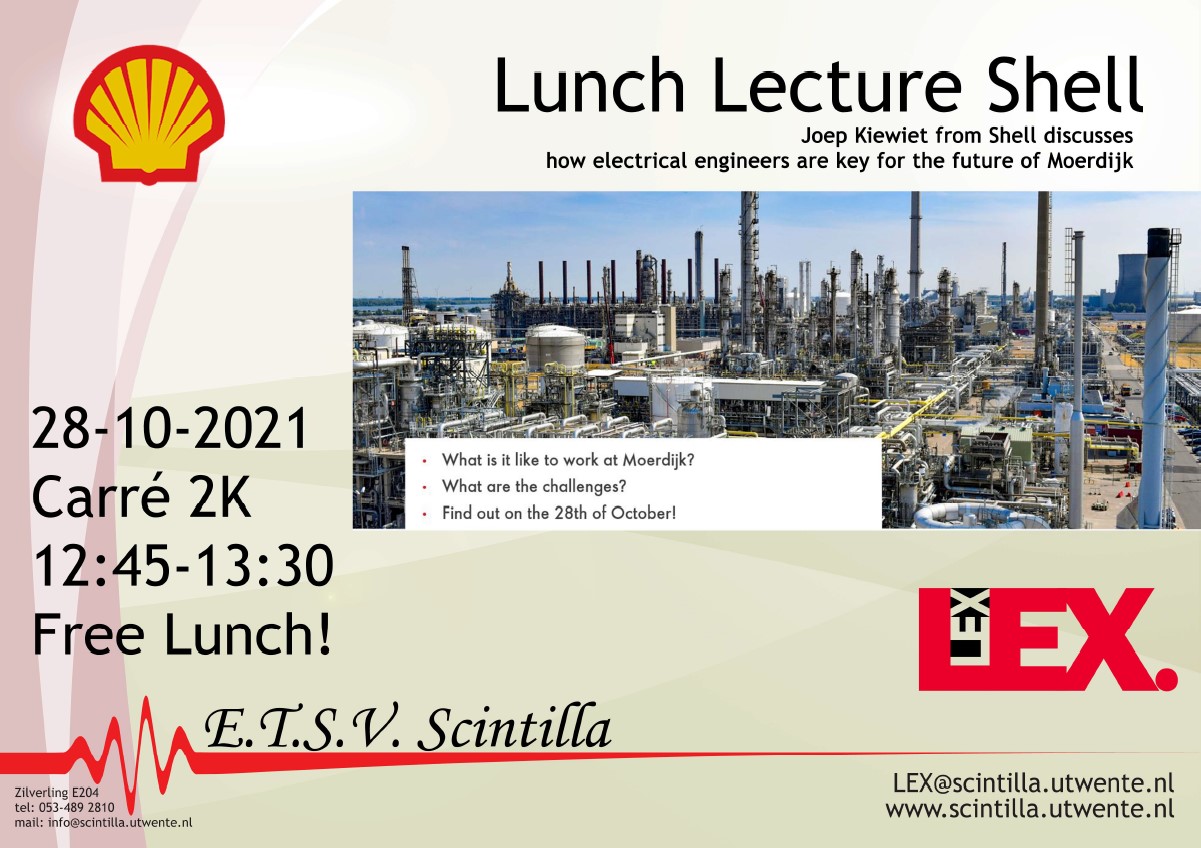 Lunchlecture Xsens (Movella)
Tuesday 23 November 2021 12:45, TBA [LEX]
Xsens is the leading innovator in 3D motion tracking technology and products.
Achterhoekse Talententuin
Friday 26 November 2021 10:00, DRU Cultuurfabriek Ulft [LEX]
On Friday 26th of November it is that time again, the biggest career event of the Achterhoek, De Talententuin. We are happy to announce this year's edition of De Talententuin will be in physical form again. Invite all your friends and together we create a nice event at the SSP-hall at the DRU industrial park in Ulft.
Besides that you'll get in touch with more than seventy companies which want to talk to you.
So are you looking for an awesome internship, graduation internship or starter job? Do not wait longer and sign up immediately via www.talententuinachterhoek.nl.
The organization of De Talententuin ensures transport from and to De Talententuin which is free of charge for you.
Vacancies
No vacancies.