Lezingen en EXcursies
Huidige leden van deze commissie
| | |
| --- | --- |
| Alexander Keizer | Voorzitter |
| Vlad Malaxa | Secretaris |
| Pieter Paasman | Penningmeester |
| Herjan Barkman VP | Algemeen lid |
| Jibbe Andringa | Algemeen lid |
| Marleen van Dijk VP | Algemeen lid |
| Rienk van der Wijk | Algemeen lid |
| Timo van Beelen | Algemeen lid |
| Wouter Nijenhuis VP | Algemeen lid |
| Bart Schuurman | CCP |
Aankomende activiteiten door deze commissie
[Online] Lunchlezing Bilfinger Tebodin
maandag 06 december 2021 12:45, MS Teams [LEX]
Vanwege de coronamaatregelen is deze lunchlezing online via Microsoft Teams: https://teams.microsoft.com/l/channel/19%3a090aab64d48949728e6af67856d8e37d%40thread.tacv2/Lunch%2520Lecture%2520Tebodin?groupId=b023b45c-2533-47f0-aaef-4947fded45cf&tenantId=723246a1-c3f5-43c5-acdc-43adb404ac4d
The energy transition and electrification of the industry is a hot topic.
How does Bilfinger Tebodin support the current industry with this topic and how do we make sure the current electrical installation is ready and safe for the upcoming transition?
Join us on a tour from engineering electrical networks to consultancy for continuous operation (selectivity) and safe maintenance (arc flash).
Lunchlezing Bauwatch
woensdag 15 december 2021 12:45, Carré 3C [LEX]
BauWatch Technology is part of the BauWatch group.
As an expert in remote monitoring & control, we are a high-tech organization with a strong focus on R&D and open innovation.
We act as BauWatch's R&D and software development department.

BauWatch has become a household name to temporarily secure any outdoor location in the Netherlands and also in other European countries.
In addition to the well-known camera towers, Bauwatch Technology also develops and maintains solutions for access control.
This includes accreditation support, check-in-check-out systems and turnstiles.

The lunch presentation is given by Silke and Wouter as Software Developers and old Scintillians.
They will talk to you about the company, our teams and the access control products. Learn what it is like to work at Bauwatch and enjoy free lunch!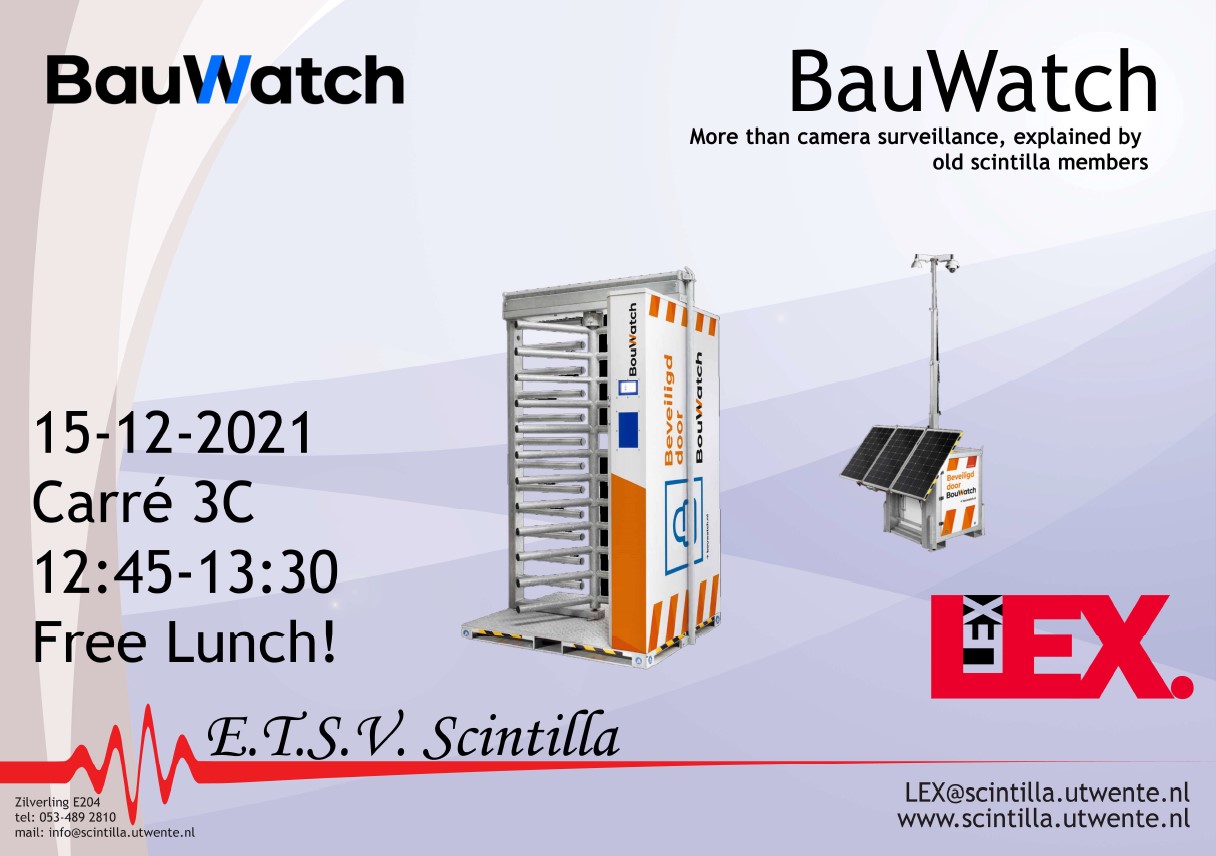 Lunchlecture ASML
dinsdag 21 december 2021 12:40, TBA [LEX]
Together with ASML Engineer Peter Bijleveld we'll dive into the world of chips, where you can find them, but more important, how they are made! With 28.000 employees, a lot of people are contributing to the success of ASML and are working on challenges that come with pushing boundaries of physics on a daily base. Ensuring the functionality and quality of the electronical cabinets from our suppliers is one of the challenges that Peter and his team are constantly working on. Which challenges can you face as an electrical engineering generalist or specialist within ASML?

Join the ASML lunch lecture on December 21 to find out about Peter's experience as a Supplier Quality Engineer!
Commissievacatures
Geen vacatures.